Thank-you notes
Bajo el lema why–write–it–when–I–can–email–it, en el acelerado mundo en que nos movemos, el impacto de una nota de agradecimiento manuscrita no se tiene demasiado en cuenta. Sin embargo, una nota escrita con sinceridad es mucho más apreciada que una llamada telefónica o un mensaje electrónico.
Las notas de agradecimiento (thank-you notes) se dirigen para agradecer un regalo, una comida o un favor realizado. Ten presente que tu aprecio resultará mucho más sincero si lo expresas rápidamente. Por ello, no deberías demorar más de una semana en expresar tu gratitud. Ése es el secreto.
A continuación tienes algunas expresiones útiles para expresar "gracias" (observa con atención las preposiciones):
Thank you very much for your nice gift
Muchísimas gracias por tu hermoso regalo
Many thanks for asking us to have tea
Muchas gracias por invitarnos a tomar el té
I'm (very) grateful to you for lending me your camera
Te estoy (muy) agradecido por prestarme tu cámara
It was (just) lovely of you to come with me
Fue (simplemente) encantador de tu parte acompañarme
It was (most) kind of you to do so
Fue (sumamente) amable de tu parte hacerlo
Many thanks on behalf of my family
Muchas gracias en nombre de mi familia
Thanks for lending me your book. I'll return it to you on Sunday at the latest.
Gracias por prestarme tu libro. Te lo devolveré el domingo
a más tardar.
Our warmest thanks for the dinner last night
Nuestro más cálido agradecimiento por la cena de anoche
Thanks for greetings


Thanks for presents



Thanks for entertainment



Thanks for a loan


Thanks for a lecture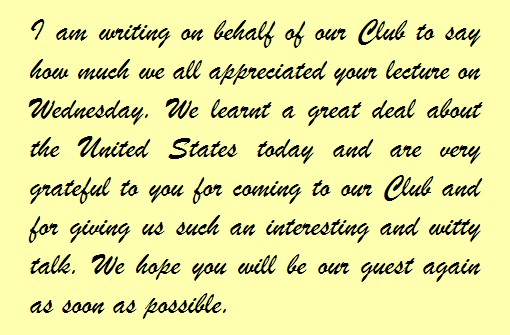 Completa estos mensajes de agradecimiento seleccionando del menú las preposiciones correctas. Algunas alternativas se repiten.
| | |
| --- | --- |
| | |
| 1. | Thank you coming. It was most kind you and your wife to come our party. |
| 2. | Many thanks behalf my parents and my own behalf. |
| 3. | We are very grateful you giving us such a witty talk about American geography. |
| 4. | Thank you very much your good wishes. And I also want to thank you agreeing to lend me your car. |
| 5. | I am grateful you lending your digital camera my son; we will return it you on Monday the latest. |