Good wishes: engagement/marriage
Hemos dedicado esta unidad de estudio a los temas de compromiso y casamiento. En la Unidad 39 ya habías visto un ejemplo de participación e invitación formal de bodas.
Ahora analizaremos una invitacion informal de compromiso (engagement) con los mismos integrantes de la tarjeta anterior. Observarás que se ha preferido combinar el vocabulario "descontracturado" (sharp, nite, casual, comfy, etc.) con un estilo formal (tercera persona):
An informal invitation to an engagement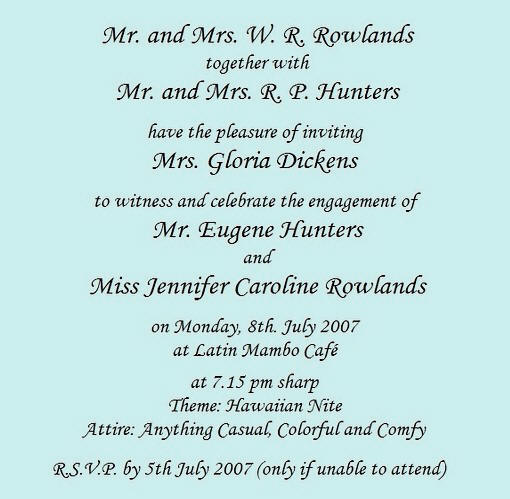 Analicemos ahora la terminología inglesa utilizada en la temática de esta unidad del curso:
>> fiancé, fiancée (novio, novia)
marriage (casamiento, como institución)
wedding (casamiento, como ceremonia religiosa)
>> bridegroom, bride (novio, novia)
silver wedding (bodas de plata)
golden wedding (bodas de oro)
Cabe recordar que la cortesía y la formalidad exigen que en ocasión de un compromiso matrimonial y de una boda, se dirijan felicitaciones al novio, y a la novia se le desee la mayor felicidad.
Para expresar buenos deseos suele utilizarse el verbo may con la inversión, norma característica de las fórmulas de buenos deseos o augurios, cuya traduccion al español normalmente se inicia con el pronombre relativo Que...
May you continue to be happy!
¡Que sigan siendo felices!
May Rita be a good wife to you!
¡Que Rita sea una buena esposa para ti!
Para este tipo de salutaciones es importante recordar cómo se utilizan los verbos wish (desear) y congratulate (felicitar). Las dos estructuras básicas son:
WISH SOMEONE SOMETHING
desear a alguien >> algo
I wish you >> a long happy married life.
Te deseo >> una larga y feliz vida conyugal.
CONGRATULATE SOMEONE ON SOMETHING
felicitar a alguien >> por algo
We congratulate you >> on your engagement.
Te felicitamos >> por tu compromiso.
GOOD WISHES TO THE BRIDE
Observa ahora cómo enviar tus buenos augurios a la novia:
For an engagement

For a marriage

After a marriage

CONGRATULATIONS TO THE BRIDEGROOM
Observa ahora cómo enviar tus felicitaciones al novio:
On an engagement

On a marriage

Basándote en las expresiones que has analizado, lee estas oraciones y complétalas adecuadamente.
1. We were pleased to hear your engagement
Marcelo.
2. you enjoy many years of happiness!
3. I wish and your fiancé Oscar all the .
4. Hearty congratulations your marriage, Tommy!
5. Never congratulate the . Remember to
congratulate the bridegroom instead.
Intenta completar ahora este telegrama para una boda (wedding telegram) seleccionando del menú las alternativas correctas.
CONGRATULATIONS,
WISHES AND YEARS OF .
Intenta completar ahora este telegrama para un festejo de bodas de plata (silver wedding) seleccionando del menú las alternativas correctas.
OUR HEARTIEST GOOD ON THE
25TH OF YOUR .
YOU CONTINUE TO BE HAPPY FOR
ALL THE TO COME.