Change of address
En esta unidad estudiarás el tipo de mensajes –por medio de tarjetas o notas breves– que se envía a amigos y conocidos para comunicarles un cambio de domicilio. Estas son algunas expresiones que puedes utilizar:
The Rooster Family has just moved.
La Familia Rooster se acaba de mudar.
Our address will change next month.
Nuestro domicilio cambiará el mes próximo.
We moved to a new place.
Nos mudamos a una nueva casa.
Our new address is ...
Nuestro nuevo domicilio es ...
The Roosters have just moved.
Los Rooster acaban de mudarse.
Hey! Look who's just moved!
¡Eh! ¡Miren quien acaba de mudarse!
Can't stop now, the truck is on its way to ...
Ya no podemos volver atrás, el camión está en camino a ...
We ran out of space, so we moved!
¡Nos quedamos sin espacio, por eso nos mudamos!
We've moved, but stay in touch!
¡Nos hemos mudado pero sigamos en contacto!
We're all unpacked and settled in ...
Hemos desempacado y ya estamos todos ubicados en ...
Martha and Paul have a new home. Please come by!
Martha y Paul tienen un nuevo hogar. ¡Ven a visitarnos!
Home Sweet Home. Now live (living) at ...
Hogar Dulce Hogar. Ahora vivimos en ...
Change-of-address notes
Cuando son más formales, para los cambios de domicilio destinados a colegas o amigos suele preferirse el formato de carta en lugar de una tarjeta. Por ejemplo:
This note is just to let you know that we will be moving in a month to 1024, Borges Street, Palermo, Buenos Aires. Our new telephone number will be 4832-5411 and our e-mail will not change.
| | |
| --- | --- |
| Please come to visit us at anytime. | |
>> to let you know
para hacerte saber
>> we will be moving in (period of time) to (address)
nos mudaremos dentro de (tiempo) a (dirección)
>> come to visit us at any time
ven a visitarnos en cualquier momento
Si se trata de mensajes bastante más formales o dirigidos a clientes privados de confianza el texto sufre algunos cambios. Por ejemplo:
As of Thursday, November 1, 2007, my office will be re-located to Le Parc Tower, at 2315 Cervino Avenue, New Palermo, Buenos Aires, 1426. The new telephone number is 4775-9916.
I hope you find this new location more convenient than the previous one. I have enclosed my personal card.
Sincerely,
>> as of Thursday, November 1, 2007
a partir del jueves, 1° de noviembre de 2007
>> will be relocated to (building) at (full address)
será reubicada en el (edificio) en (dirección)
Change-of-address cards
Por su parte, los parientes y amigos íntimos suelen utilizar tarjetas postales divertidas para comunicar un cambio de domicilio: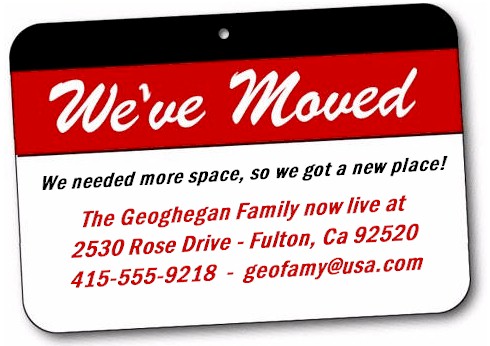 Algunas personas suelen elegir diseños particularmente ingeniosos, con juegos de palabras, como el que puedes ver aqui abajo (a change of a dress por a change of address):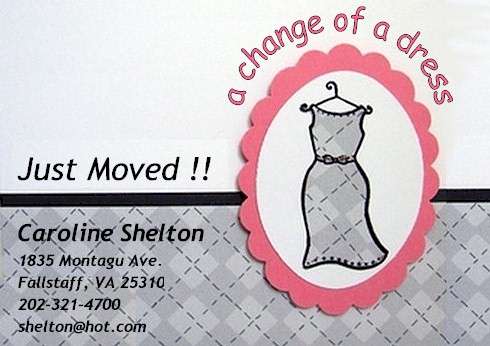 Basándote en las expresiones que has analizado, lee el texto de esta tarjeta en la que se notifica un cambio de domicilio y completa adecuadamente la nota más abajo.
Change of Address
Jack and Susan Morton will be moving to
10, Renoir Avenue, London N9 7YC
on Oct. 20th 2007 tel 7609-6925
Dear Norma,
Just a note to let you know our new and telephone .
We'll moving October 20th, so after that date our will be 10, Renoir Avenue, London N9 7YC and our number be 7609-6925.
All the ,
Jack and Susan